Igor Sikorsky KPI seeks partners to participate in projects within the framework of EU programs
Igor Sikorsky KPI is endeavoring to extend international contacts and participate in international projects. The University is poised to give a big boost to project proposals aimed at sharing experience, developing new research tools and methods, applying new technologies to education (including remote-learning technologies), fostering multilateral academic exchange, and elaborating a framework for long-term cooperation in:
• Cutting-edge technologies in informatics, mechanical engineering, chemistry, and materials science
• Information networks and ICT
• Energy saving and the development of energy-efficient technologies;
• Environmental monitoring and protection
• The elimination of the consequences of nuclear and man-made disasters
• Aerospace technologies
• Research in human resource management
• Medical engineering
• Systems analysis and decision-making Igor Sikorsky KPI is interested in establishing joint units with authoritative international organizations and partner universities.
We are seeking partners to participate in projects within the framework of Erasmus+ (KA1 and KA2), Jean Monnet, Horizon Europe, and other EU programs.
CONTACT US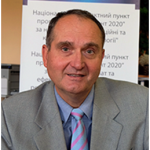 International Project Office
Prof. Sergiy Shukayev
Tel.: +380 44 2048019    Email: s.shukayev@kpi.ua
Postal address: International Collaboration Department, 37 Peremohy Avenue, Kyiv, 03056, Ukraine

"IGOR SIKORSKY KPI SEEKS PARTNERS TO PARTICIPATE IN PROJECTS WITHIN THE FRAMEWORK OF EU PROGRAMS"