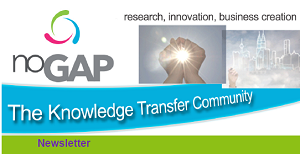 The 12th Newsletter of the NoGAP Project is now available! Download [PDF, 1.07 MB, English].
In this issue:
NoGAP Final Conference, 27-28 July 2016, Cluj-Napoca, Romania
The overall objective of the NoGAP project
General conclusion on the project
Data base of Technology Offers, Technology Requests and Expression of Interest
News & Events
Other Projects in STI
And many other interesting things to read! [PDF, 1.07 MB, English].