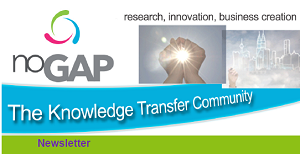 The 11th Newsletter of the NoGAP Project is now available! Download [PDF, 2.03 MB, English].
In this issue:
General conclusion on the project
Trainings and handbooks
NoGAP twinning and staff exchange program: main results
Innovation audits
Brokerage events
Best practice, benefits, lessons learnt – Ukraine, Belarus, Georgia
NoGAP Final Conference, 27-28 July 2016, Cluj-Napoca, Romania
Actual Horizon 2020 and other EU Programmes Calls
Forthcoming events in the field of Energy Efficiency, Technology Transfer, Research and Innovation Support
And many other interesting things to read! [PDF, 2.03 MB, English].